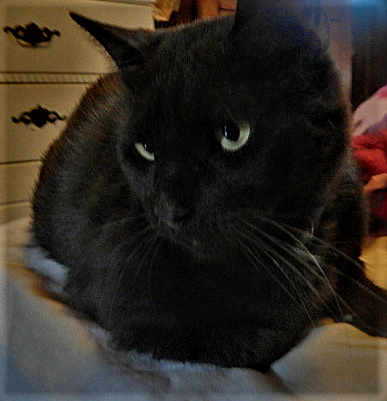 11 Aug

Help FIV cats
Celebrating life well lived and GARC existence!
George had a horrible beginning but had a happy ending. George was born on the street and barely survived until GARC rescued him at a young age. Although George suffered from FIV, he was with us for three happy years. He was loved and cared for. 
George was crying from hunger in the middle of the night when he was a kitten outside of GARC. His unusual loud meow woke up the caretaker and founder Cindy Yee Kong. She put food out for him, but he would not let her get close to him. Later, she was able to trap him in order to get him proper veterinary care.
George had open wounds on his back and posterior legs causing him to limp. He had lesions on his tongue and sores in his mouth. With proper veterinary treatments, a lot of love, and a nutritious diet, George was able to live a happy and healthy life.
Sadly, in the past month George was battling kidney failure. He was able to overcome that but he kept getting a fever that put him back in the hospital. Before the doctor could identify the proper diagnosis, George passed away peacefully in ICU at Woodland West Hospital on 8/7/2020 at 8:00am. 
George was full of love and there wasn't any mean bone in him. He loved to snuggle and sit on your lap. Because of his unique loud meow, he could be heard from miles away. He will be greatly missed.
Thanks to your support  he knew he was loved and he didn't have to die on the street without knowing love. 
Would you help us to help more animals like George? This August 25th we will celebrate our 3-year anniversary. Won't you join the celebration by helping us to raise $3K by donating $3 and ask ten friends to donate $3 to raise $30. If each of you donate $3 and invite your friends and their friends to do the same, we can reach our goal.  
Click here to create a Facebook Fundraiser or click here if you don't have Facebook.
Our story.
We have helped over 50 animals and counting. While for some, this may seem a small number but GARC is run by one woman with a disability who has great love and passion for the suffering animals.
Cindy Yee Kong, author of The Eyes of the Lion, grew up in an abusive, alcoholic family while struggling with a debilitating genetic disorder. She experienced first-hand what it is like to be abused and neglected. That is why she feels so strongly the urgency to do something for these abused, homeless animals that have been ignored and pushed aside.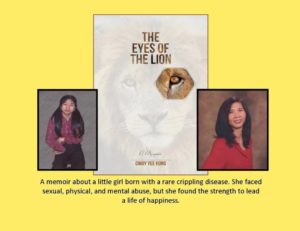 She founded Grace Animal Rehabilitation Center Inc. to address the pressing need of rescuing and homing overpopulated animals in her community. Her love for domesticated animals began when she was comforted by a rescue kitten during her own personal struggles.
The application to establish GARC as a nonprofit organization in Oklahoma was submitted to the Oklahoma Secretary Treasury on August 25, 2017, after its founder realized that the animals she saved would not qualify for placement in private rescues because of their terminal illnesses, chronic conditions, and/or fearfulness. After a rocky beginning, her Federal 501 (c)(3) status was approved in October 2017.
In early 2018, Cindy's mother passed away. She made three trips to NYC to see her mother. Her mother finally passed away on May 14, 2018. This loss sent her into deep grief and depression without any support. In spite of this, GARC was still able to help 13 animals get adopted that year. Some animals were not  able to make it due to illnesses. Some didn't get adopted toward the end of the year so they stayed in their care. Toward the end of the year,  GARC cared for a total of 27 animals. 
In 2019, procedures were updated to limit the number of animals at one time in their care. Since then, the outcomes have been much more positive.
In 2019, GARC  partnered with Petco foundation, ASPCA, Bissell Pet Foundation and Ask Ariel Pet Nutritionist.
In 2020, with the onset of COVID-19, Cindy stays positive and strong and continues to save lives. She is looking to recruit board members to grow her organization and realize her ultimate vision of GARC, Inc having its own brick and mortar building, its own home. If you are passionate about making a difference in animals' lives, we are looking for people with experiences in marketing, advocacy, veterinary, and financial analysis. Click here for more info. or call 918-264-8744.
Please share and donate.