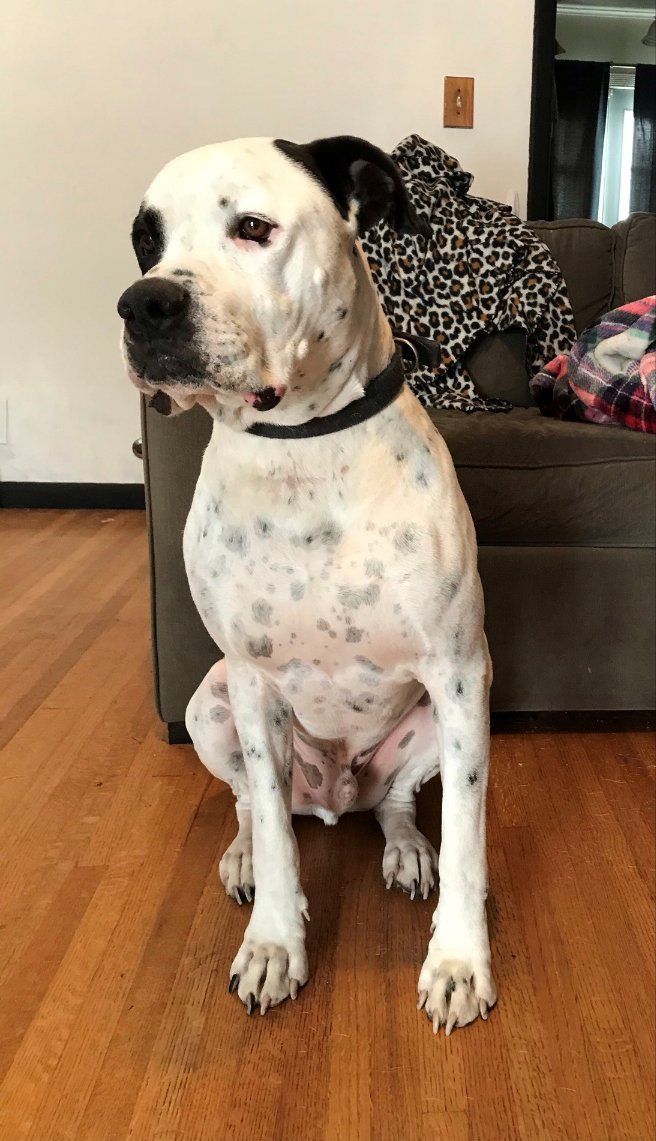 11 Jun

Incredible "Tail"
Incredible "Tail"
With the daily news so full of troubling headlines, I thought you might appreciate an uplifting story today! I'd love to tell you about our sweet Peetey, a GARC pup who's incredible "tail" — pun intended — will make you smile.
As a certified therapeutic dog, Peetey has always had a heart of gold. He loves nothing but to snuggle and be snuggled. But tragically, his owner had no room for him, and kept him outside, night and day, alone and suffering in the berating elements. She wanted him to have a better life, so she tried to contact the other local rescues — but was repeatedly turned away.
Luckily, a friend reached out to GARC and, without delay, we brought Peetey in out of the elements and got him a check-up. He tested heart-worm positive – a deadly condition — but we got him treatment, and he is now heart-worm negative and thriving!
If fact, Peetey has a new job doing what he loves most once again! GARC was able to place him in a loving forever home, where his new mama is a Mental Health Professional. Now, working alongside his mom, Peetey is changing lives every day with his heartwarming therapeutic cuddles! It is incredible to see Peetey bringing hope and healing once again!
But…There are still so many animals — starving, injured, abused, neglected — that need our help now, if they are ever to have their own chance at a happy ending like Peetey's.
You have the power to change that.
Today, you can help save the lives of many more animals like Peetey.
That's why I'm inviting you to join the GARC Membership Program — a monthly giving program that ensures that GARC is able to:
Continue rescuing neglected and abused pets.
Continue providing medical care for our rescues, as well as providing for their daily needs.
Continue placing our rescues in loving forever homes.
By joining the GARC Membership Program you will make a huge impact on our cause, without impacting your monthly budget.
You can feel great about setting up this convenient monthly donation and providing a predictable base of support for Grace Animal Rehabilitation Center.
Become a GARC Member today and you'll enjoy:
The knowledge that your donation is put to work immediately
Monthly updates — and photos! — on the difference your dollars are making
Hassle-free automatic monthly donations from your credit card
The ability to change or suspend your donations at any time
Complete statements provided for tax purposes
The joy of knowing that you're saving a once hopeless animal's life
But, that's not all! For a limited time, when you join the Membership Program with a monthly commitment of $25 or more, I want to send you my book, 'The Eyes of the Lion.
I grew up abused, neglected, and struggling with debilitating medical needs, much like the animals GARC seeks to save. I was able to overcome, and now it is my mission to save animals from this kind of suffering. I hope 'The Eyes of the Lion' inspires you!
As you reflect on the difference you want to make in the world, please remember that Grace Animal Rehabilitation Center needs you!
Can we count on you today?
YES, I'M IN!
Thank you so much,
Cindy Yee Kong
Founder, Grace Animal Rehabilitation Center