Allergy Treatment for Dogs and Cats
Today's guest post features Ask Ariel! Ask Ariel Your Pet Nutritionist offers expert advice about pet nutrition and holistic pet health. Their exceptional quality supplements were developed based on Pet Nutritionist Susan Blake Davis' experiences rescuing and rehabilitating homeless shelter animals. Ask Ariel supplements have been used successfully in veterinary hospitals since 2005 and are recommended by veterinarians nationwide. Purchases from links in this post provide proceeds that go 100% to furthering GARC's mission!
Is Your Cat Or Dog Itching Constantly? There Is Hope! There is Help For Cats And Dogs That Are Itching, Scratching And Tearing Their Fur Out!
While humans often display respiratory symptoms such as sneezing and eye irritation from allergies, common symptoms of allergies in dogs and cats are excessive scratching, licking, chewing, rashes, hot spots, hair loss and even digestive upset. Generally, when a dog or cat is scratching excessively, the first thing we think of is that the pet has fleas. It is always a good idea to rule this out first by consulting your veterinarian or checking the pet's coat with a flea comb for fleas. It's important to see a veterinarian as getting to the root cause is key to an effective treatment that can offer relief for your pet. Some of the most common reasons a dog or cat may be scratching are allergies, fleas, parasites, yeast, bacterial infection, and mast cell tumors. Once you have a diagnoses from your veterinarian, use our holistic supplements along with allergy treatments prescribed by your veterinarian.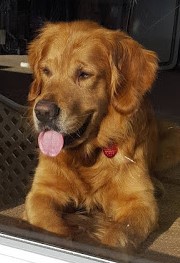 Dakota
"I want to let you know how great Dakota, our Golden Retriever that we rescued, is doing. When we got him, he had bad ear infections that he had for months, and his skin was so black in the armpit and groin areas that we thought it was ground in dirt. He also had acid reflux and would bring up bile several times a day. It has taken several months, but the blackened skin (from yeast) is almost back to normal thanks to K9 Yeast Defense. I wish we had taken "before" pictures of his skin because the difference is remarkable. And, for his acid reflux, we started using your supplements (Power Probiotic, K9 Digestive Enzymes,Gastro ULC and Soothing Digestive Relief). We used to give him Pepcid, but we have been able to slowly wean him off. I can't forget to mention using your food recommendations. His ears didn't start to clear up until we got him eating food that he could tolerate. Thank you so much for your supplements and all your help. Dakota is a much happier dog thanks to you!" – Pam & Tim, Emmaus, PA
Cat And Dog Scratching Remedies Provide Natural Relief
For non-stop itching and skin problems a combination of supplements and diet changes are usually required to resolve the issues and offer relief. Using a combination of our natural supplements can help provide relief from itchy and dry skin, dandruff, chewing on paws, hair loss, red spots, dog's itchy ears, yeast infections, blackened skin, and ear infections. Please scroll down to view product details.
Our products have been recommended by veterinarians nationwide since 2005 because they really work and can be used in conjunction with conventional veterinary medications.
Amazing Omegas – reduces inflammation, makes coats shiny and soft, fights allergies, and helps the fur glisten. Very helpful for a cat or dog that has dry skin, itchy skin and dandruff.
K9 Yeast Defense – Many dogs are constantly itching due to an underlying yeast condition. If your dog has had ear infections, smelly odor, especially on the paws, than use the K9 Yeast Defense in conjunction with the allergy products. This natural anti-fungal supplement stops doggie odor, chronic ear infections, licking at the groin and ears. Allergies, food, antibiotics and steroid use can all contribute to yeast infections in dogs. Our K9 Yeast Defense is a safe way to get rid of yeast infection symptoms and support your pet's immune system. Since yeast and bacterial growth go hand in hand, it's best to use the K9 Yeast Defense along with NotaSAN.
Proaller provides cat and dog itching relief, helps pets sleep better at night (stops dog itching contantly) and temporarily stops the constant scratching and licking. Some clients report that it helps even when antihistamines don't. ProAller drops were developed as a treatment for allergies in dogs and cats, including hypersensitivity to house dust, foods, antibiotics, metals and animal hair; hay fever; conjunctivitis and irritation of the eyes and ears. Works most effectively when combined with NotaSAN capsules or drops.
NotaSAN Anti-Infection Formula – Best seller! Natural remedy for fighting infections, reducing doggie odor and redness. Controls harmful bacteria and restores gut flora balance, improving digestive symptoms and immune function. Works well in combination with Proaller and/or K9 Yeast Defense.
AllerEaze – All-natural AllerEaze is a leading allergy product for pets. AllerEaze contains scientifically proven quercetin, which reduces your pet's histamine response and can take the edge off allergy symptoms. This natural allergy treatment for dogs and cats works best when combined with Power Probiotic. In addition to environmental allergies, many dogs also develop ear infectons and yeast skin infections. AllerEaze is often used along with K9 Yeast Defense and Power Probiotic in the hot summer months when allergy symptoms are the worst. AllerEaze is essential for dogs with mast cell tumors as it naturally helps reduce your dog's histamine response.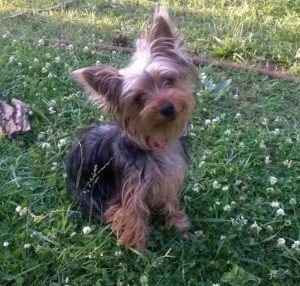 Bella
"Thanks so much for your wonderful allergy products. Bella is doing so well with the AllerEaze, Power Probiotic and Gastro ULC" – Lustig Family, NJ
Why Use Ask Ariel Supplements To Help Your Pet With Allergies?
Many pet owners have seen the benefits of using supplements on their own health and now want the same for their pets. Our premium, natural pet supplements have been used successfully in veterinary hospitals since 2005. Ask Ariel's remedies are selected based on quality, scientific research and proven results. A holistic approach with supplements and diet changes (FREE diet tips on the packing slip with your order) can finally give your pet much needed relief and stop the cycle of antibiotics and steroids. Many veterinarians have seen the proven results of our products with their patients which is why Ask Ariel pet supplements are veterinary recommended nationwide.
Do you have a dog that is itching constantly? Is your cat losing patches of fur? Our cat and dog scratching remedies can help.
Please feel free to email us at Support@AskAriel.com